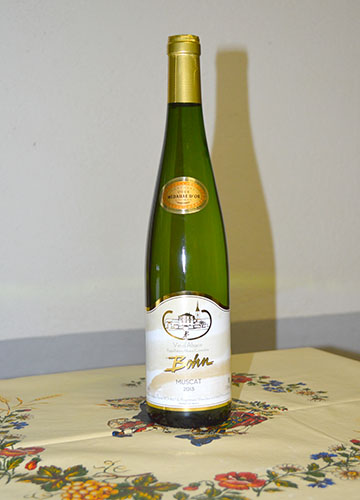 His origins :
Two varieties of Muscat are cultivated in Alsace. Muscat said the "small grain" or "Muscat d'Alsace" appeared in Alsace in the early sixteenth century (it is also cited by the great Alsace poet Fischart). Muscat Ottonel appeared in Alsace in the mid-nineteenth century.
The accommodate:
No Alsace Wine does best embodies the Muscat joys and spirit of spring, this appetite for fresh and beautiful fruit that makes you bite on the mouth a bunch of grapes!
With its dry character, Muscat d'Alsace really opens the appetite. The delicacy and subtlety of the fruit, her natural vivacity leave intact the palace for an aperitif then looking at the early stages of gastronomic journey
He accompanied with subtlety and malice grilled fish, while its natural highlights light cuisine based on cooked or raw vegetables: steamed preparations, vegetarian dishes or young shoots.
In the spring, he intends whipping at the cutting asparagus in said even temperament confusing! Is that asparagus reveals finish a hint of bitterness that distorts the aromas of most wines. Muscat d'Alsace the challenge, sharing it with bitterness finesse, it coats its fruity crunchy and delicious.
@sources Site vins d'alsace