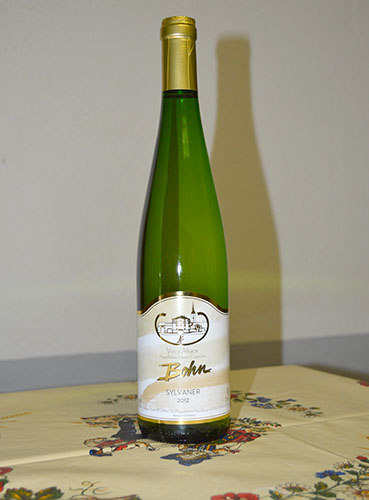 Appellation Alsace :

In Alsace unlike other uses of French vineyards, it is generally not the terroir which gives
its name to the wines of Alsace varietals but themselves.
Sylvaner : Sylvaner flourishes in light, sandy and stony soil. In certain terroirs, it produces wines of great finesse. Sylvaner is a varietal that provides a regular yield, even though it is succeptible to spring and winter frosts.

History :
Traditionally cultivated in Alsace, Sylvaner may originally originate from Austria and was scattered throughout Central Europe, and as far as Russia, Australia and California. Transylvania is sometimes considered to be the homeland of this varietal, as referred to in the grape's name. 
Appearance :
the colour is clear, revealing green tinges, thus emphasizing its characteristic freshness.
Nose the nose is fresh and light. It offers a bouquet that is discreetly fruity and floral: citrus fruits, white flowers, freshly cut grass …  Palate  the mouth is open and pleasant, structured around a thirst-quenching freshness.