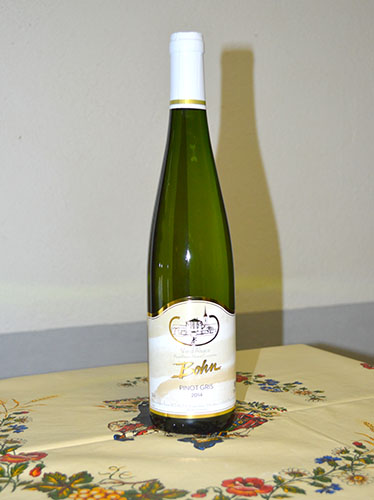 Origins :
A famous legend claims that around 1565 the vines were brought from the town of Tokay (Hungary) by the Baron Lazare of Schwendi, who served the House of Austria in its struggle against the Turks. Owner of land in the country of Baden and Alsace, he ordered to multiply these plants in Kientzheim (where his castle still exists, property of the Brotherhood Saint Etienne). At that time in fact the wine regions of European countries dreamed of producing Tokay from Hungary, popular and strong wine made from the Furmint grape.
But, according to the theses of several ampelographists, it is likely that the varietal brought by Lazare of Schwendi did not match the famous wine of Hungary. Pinot Gris, originally from Burgundy, renowned for its qualities and faculties to produce very concentrated wines, then it would have been substituted under the name Grauer Tokayer.
In addition to its ampelographic and taste aspects, it is the troubled history of its various denominations that have caught the attention of the wine world. Grauer Tokayer called before 1870, Pinot Gris was then successively named Tokay gray, Tokay d'Alsace, Tokay Pinot Gris and finally, since 1 April 2007, Pinot Gris.
To accommodate:
This beautiful white enveloping and velvety says a strong character bodied, opulent and generous at a time.
Pinot Gris from Alsace is a rich wine, round and long finish, balanced by a good acid structure, giving it all its nobility. That's why he loves dishes to taste strong personality, it magnifies the taste buds without tiring.
Such as foie gras, for example. It is necessary to accompany this dish singular, a white wine neither too light nor too acidic, with the scale, finesse but also an intensity to even highlight its flavor and inimitable texture. Pinot Gris allows all daring, from encroaching on the usually reserved for red wines registers.
It thus goes wonderfully white and red meats such as roast pork or veal, duck, game or tripe products.
Pinot Gris, with its vinous, its power and its aftertaste is needed very natural in this sensual register.

Sources @vinsd'alsace