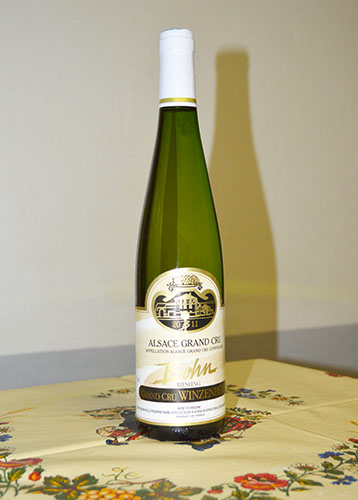 Alsace Grand Cru Winzenberg
At an altitude of 240 to 300 m, the Winzenberg dominates the town of Blienschwiller, the steepness of the slope and exposure south – Southeast guarantee him an exceptional sunshine duration. Its microclimate and its granitic soil micats 2, are particularly favorable to lanaissance Riesling Grand Cru. It occupies 19.2 hectares.
Experts appointed by the National Institute of Appellations, origin of Wines and Eaux-de-vie delimit these terroirs productionand protect their fabulous notoriety by very strict regulations.
Late Harvest and Selection de Grains Nobles
These two rare and prestigious awards are the crown on Appellations of Origin and Alsace Grand Cru Alsace.
Exclusively from the Gewurztraminer, Pinot Gris, Riesling and Muscat, they are harvested when overripe in exceptional years and selections of noble grapes by successive sorting of grapes affected by noble rot.
That patience and rigor to these "black pearls" of strictly regulated Alsace Vineyard, and whose exceptional natural wealth is one of the highest in the French vineyard.
The geological specificity communicates Winzenberg wines vivacity and a crystal clear detectable at all levels of tasting.
Riesling develops especially after a few years all mineral complexity and crystalline granite